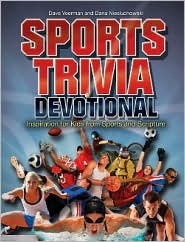 This new (November 2010) devotional by Dana Niesluchowski and Dave Veerman is written for young sports enthusiasts.  It is targeted for 9-12 year olds.  Here we review its high and low points.
Pros
Full of interesting facts and some very amazing athletes
Captures child's attention (with graphics and engaging language)
Relates each lesson to a spiritual truth
Fun to read together
Makes the Bible relevant to every day life
Won't be  met with groans by your sport-loving child
Cons
Has too many "fun quizzes." Every couple of weeks there are two days of quizzes in lieu of a devotional.  You can skip these and use the time to expand upon a previous day's devotion.
The Bible verse is positioned on the page as if it were an afterthought.  You can get around this by reading it first, looking it up, reading it in context and discussing its meaning.
Some of the content is "mature."  The issues faced by the athletes are often worldly.  Depending upon the developmental stage of your child, you may want to be selective of the days you read. Or you may find it to be a great jumping off point for deep and meaningful discussions of God's standards.
This is NOT a Bible study. This devotional is not a replacement for regular Bible reading.  The fact of the matter is, no pre-fabbed devotional will

ever

be a satisfactory substitution for God's Holy Word.
This devotional may not be full of Biblical "meat" but it can help make the Bible come alive to a child who sees the world through "sports colored glasses."  If you decide to purchase this for your child, make sure you regularly engage in Bible readings (in a kid-friendly translation) as well and you will have a wonderful foundation for entering into God's Word together.
[Disclosure: image is an affiliate link]
You might also like:
Category: Featured Articles, More . . ., Reviews
About the Author
Laura Kuehn, LCSW is a licensed clinical social worker with over 16 years expereince. She loves to partner with parents and to encourage them as they seek to build their families up with Christ as their cornerstone. She is happily married to a supportive husband and is mother to two delightfully inspiring children.